The Absolutely True Diary of a Part-Time Indian by Sherman Alexie
This novel has been on my bookshelf for about two years now, and it's one of those books that I pick up to read every time I am looking for a book, but for one reason or another I always put it back down.  Until now!!  I finally made myself read it, and now I am kicking myself in the butt for not taking the time to read it sooner.  This book is a must read.
The Absolutely True Diary of a Part-Time Indian is a lighthearted look at some very serious issues such as discrimination, alcoholism, death, grief, acceptance, determination, and hope.  The book reminded me a lot of Diary of a Wimpy kid, but definitely more serious.  The book is written from the point of view of a dorky teenager, Arnold Spirit "Junior".  Arnold lives on the Spokane Indian Reservation and does his best to fit in even though he has many health issues, and he tends to be the target of all bullying on the reservation.
One day after a minor blow-up with a teacher, that teacher sits down with Arnold and tells him that he has a lot of potential, but he needs to leave the reservation to find that potential or he risks being stuck there forever just like everyone else. Arnold takes a chance and enrolls at the public school 20 miles away where everyone is white, and he is the outsider.  By taking this chance, Arnold has completely alienated his few friends, and the whole reservation considers him to be a traitor.
Arnold faces many struggles throughout his first year at the new school.  He has a hard time fitting in with the white kids. He doesn't always have a ride to or from school.  His parents are alcoholics as well as most everyone else on the reservation.  His older sister runs away, and he has to deal with a very common occurrence on reservations: death.

Arnold slowly starts to find his place in the world when he makes the varsity basketball team.  This gives him a chance to find his place and have hope for the future until his new basketball team plays the undefeated reservation team, and everything seems to fall apart again.
This book touched on so many important issues, but because the narrator is a budding cartoonist, there was a playfulness to many of the serious issues that made them not feel as heavy to read.  This book would be such a great book to read as a class to generate valuable conversations about history and about compassion, hope and determination.  This book is full of life lessons that every kids could learn from.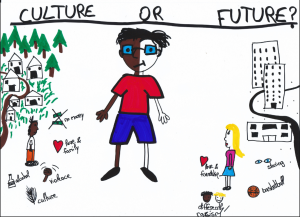 One interesting thing about this book is that it was #1 on the 2014 Banned and Challenged Books List!  According to the American Library Association, the book was banned for the following reasons: anti-family, cultural insensitivity, drugs/alcohol/smoking, gambling, offensive language, sex education, sexually explicit, unsuited for age group, violence, and additional reasons: "depictions of bullying"  That's a huge list of "offenses", but I could truly challenge most of these.  For example, I don't feel that the novel was overly anti-family.  I feel that it was a true depiction of how life on a reservation really is.  Not every kid has both parents at home to attend every school function and provide them with their every need. Arnold didn't have the best family, but the family that he did have loved him and did the best that they could with what they had.  The one thing in the book that would keep me from reading this with students in middle school is the sexually explicit scenes where the main character jokes around and talks about things that a teenage boy would talk about.  I think high school students would be ok with reading this book, but I don't think anyone under that age.  I wish that weren't the case because the overall themes of the book make it a must read for any student.